Another

Prestigious Award For Attyflin Estate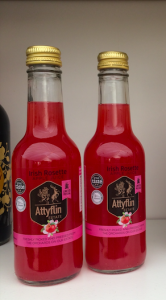 Attyflin Estates Irish Rosette Apple Juice, has received another award to add to its growing collection.
At this years Blas nah Eireann / Irish Food Awards, the limited edition juice was awarded a bronze in the fruit based non alcoholic drinks category.
Now in their 12th year, the Blas na hÉireann awards are the all-island food awards that recognise the very best Irish food and drink products, and the passionate people behind them.
The biggest blind tasting of produce in the country, the criteria on which the product is judged as well as the judging system itself, which was developed by Blas na hÉireann with the Food Science Dept of UCC and the University of Copenhagen, is now recognised as an industry gold standard worldwide.
The Attyflin Estate Irish Rosette Apple Juice is exclusive to a limited number of stockists in Ireland.    For more details and/or to place your order, please email  orders@attyflinestate.com