Attyflin

Estate Irish Rosette Apple Juice wins the highest award at the Great Taste Awards 2021

We are very proud that Attyflin Estate has won the highest 3-Star Award in the internationally renowned Great Taste Awards for our unique Irish Rosette Apple Juice – which is the only apple variety of its kind produced in Ireland.

This is our highest accolade to date for our award-winning juice which previously won a 2-Star prize at The Great Taste Awards as well as honours received from Blas na hEireann.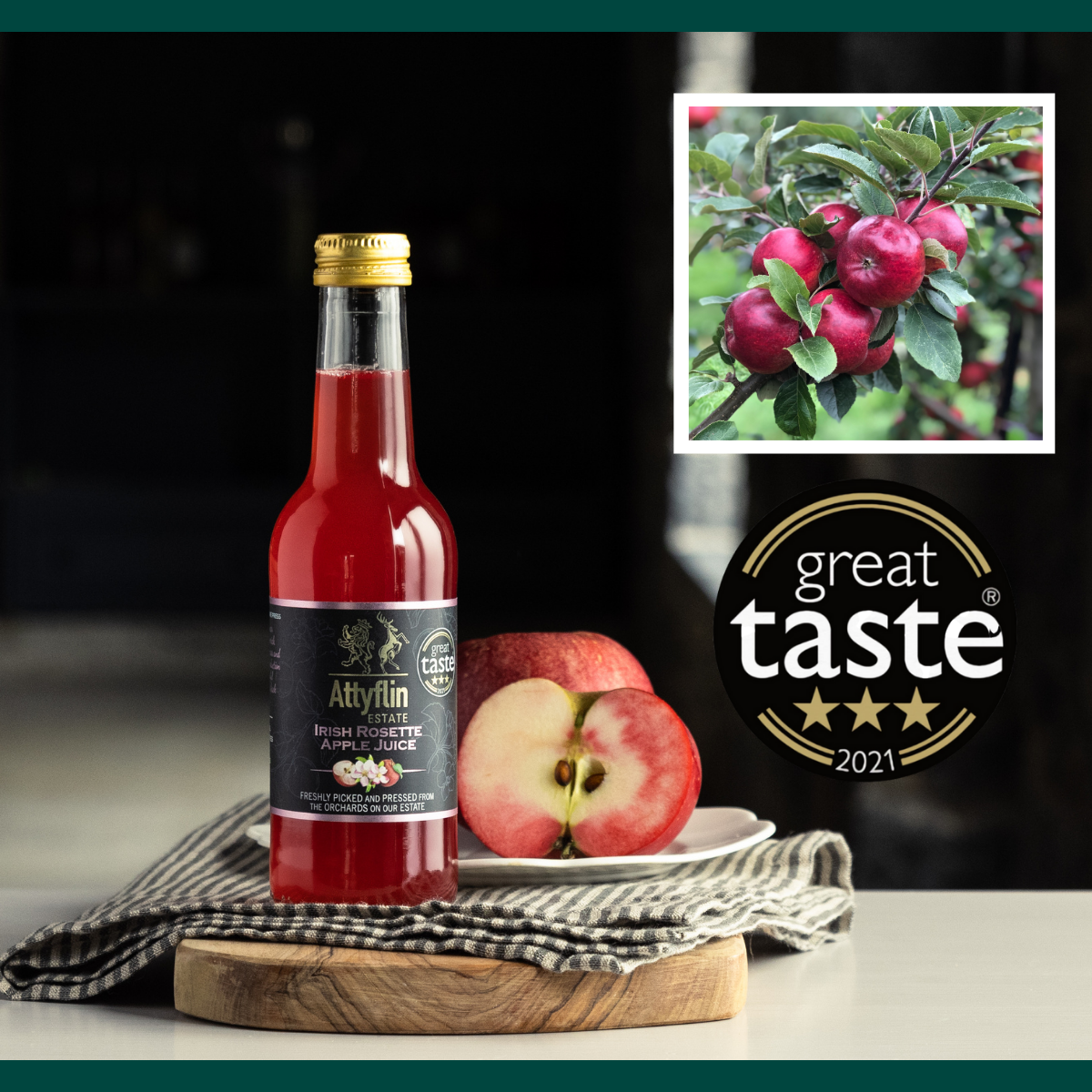 Thanks to extensive research and travel undertaken over the past number of years, and in particular visiting centres of excellence in the South Tyrol region in Italy, we have gained an insight into best practices in the agri/food tourism industries which have been applied at Attyflin to create this unique and exclusive cold-pressed juice.
The apple orchards of Attyflin Estate are the result of ten years of hard work and commitment by the team here at Attyflin. Four years ago, the decision was made to increase the number of Rosette Apple trees within our orchards up to 1,000.  This year's harvest is likely to yield approximately 5,000 bottles of the limited-edition Irish Rosette Apple juice, which will soon be available to the market. Each drop of juice boasts the most distinct flavour and colour thanks to the marbled red flesh running through the Rosette apple.
Here is some of what the judges had to say:
'The best apple juice we've ever drunk'. Just a perfect blend of acidity and sunshine. Delicious'.

'It has bold flavours, intense apple fruit, a lovely balance of sweet and acidity and a long finish. Fabulous apple juice'.

'A pretty peachy pink with warm aromas of stone fruit, peach and apricot. The flavour is completely unique with a perfect balance of the sweet and the tart'.

'Drinking this juice is like biting into the most exquisite apple. Strangely magical, an elixir!'

'Its lovely clean crisp finish leaves you wanting more.'
We do hope you get to experience this wonderful juice.