Attyflin

Estate wins again in the Great Taste Awards – 2022

We are very proud that Attyflin Estate has been recognised again in the Great Taste Awards 2022, this time for our Cloudy Apple Juice.

With over 14,000 entries from 110 countries this year, the Great Taste Awards is the world's largest and most trusted food and drink accreditation.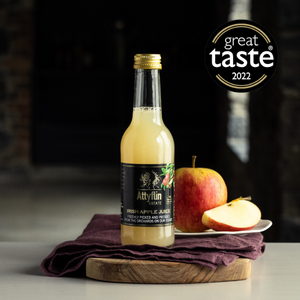 Every year since 2018 our apple juices have been recognised with awards – a true testament to the consistency and quality of our juices.
What the judges said:
"This is a cloudy-looking apple juice with a sweet, apple-y aroma. We like the idea that this is from one variety of naturally sweet apple, but it still has a tartness on the finish, so is very refreshing. We thoroughly enjoyed it, and it is simply delicious".
The apple orchards of Attyflin Estate, and the juices we produce, are the result of years of hard work and commitment by the team at Attyflin.
We have also undertaken extensive research and travel over the past number of years, and in particular, visiting centres of excellence in the South Tyrol region in Italy. As a result, we have gained an insight into best practices in the agri/food tourism industries. We have applied all our learnings at Attyflin to create our fantastic range of fresh apple juice. We now not only grow the apples in our orchards but we also both press our apples and bottle them on site, so they arrive to you as fabulous, fresh, apple-licious, thirst-quenchers.
We eagerly look forward to pressing our first batch of new season Cloudy Apple Juice at the end of August – for you to enjoy.