Attyflin

Estate featured on Neven's Greenway Food Trails.

We are delighted that Attyflin Estate and our apple products were featured on chef Neven Maguire's six-part TV series on RTÉ One – Neven's Greenway Food Trails.

The new series focused on some of Ireland's top food producers and chefs in interesting places along Ireland's greenway routes. We are proud that Attlyflin Estate was included among them as part of the Limerick Greenway route.

Neven and his team visited Attyflin Estate late in 2022 and filmed a segment for the programme that included our apple harvesting and our range of produce. On tasting our Attyflin cloudy apple juice, Neven declared on the programme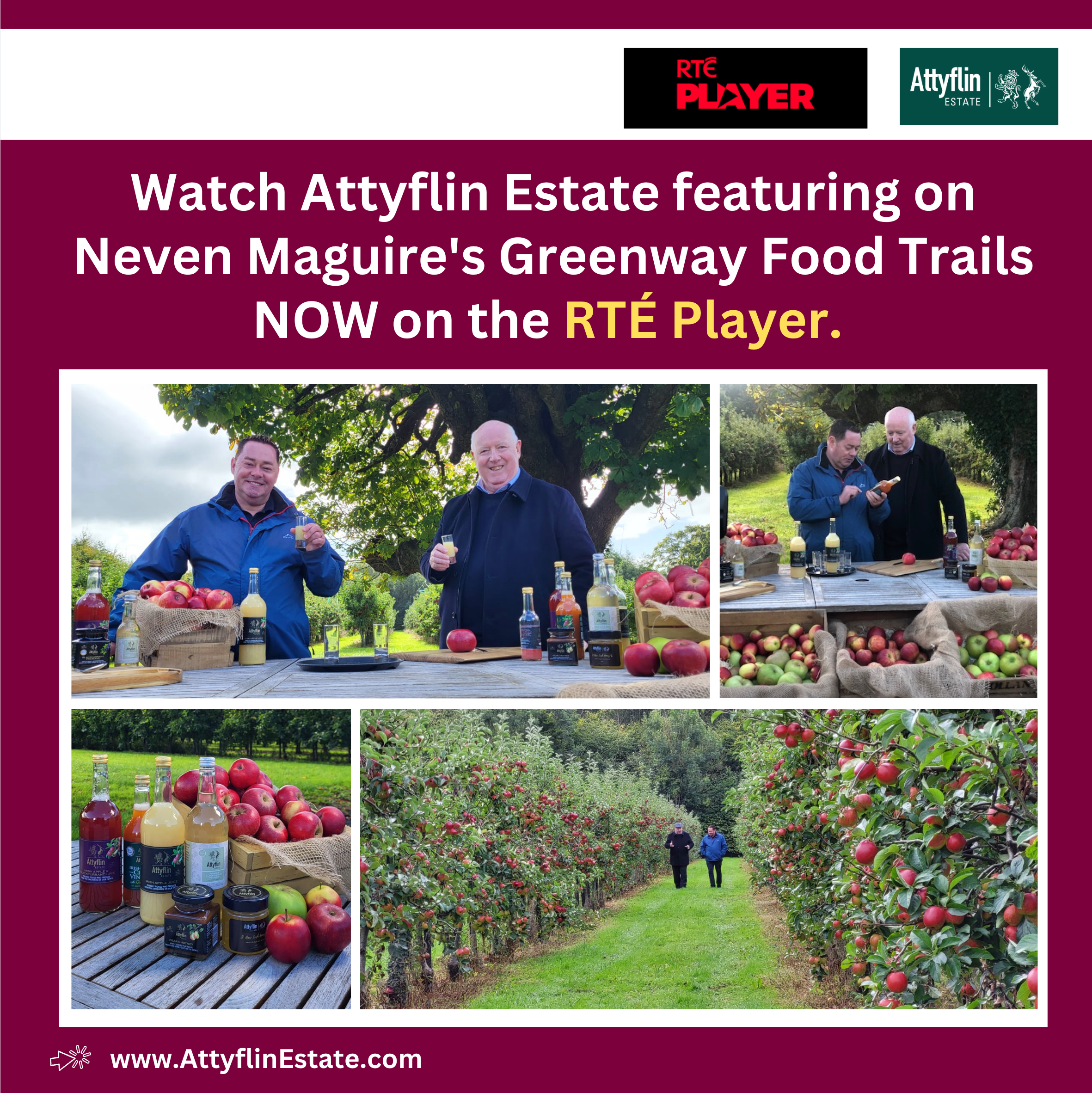 that it was "Absolutely delicious. Beautiful. So fresh, so clean". Neven also tasted our award-winning Rosette apple juice and considered it to be 'stunning'. That's appreciated high praise from one of Ireland's foremost chefs and food experts.
Attyflin featured in the 3rd edition of the series, which aired on January 18 on RTÉ One.
Neven's new series is a positive showcase for locally-produced foods and will have created awareness both among consumers and trade on some of the quality foods available around Ireland. In addition, it will undoubtedly be a significant boost to the businesses that feature. For our part, the programme has already generated new business and enquiries.
Our congratulations to Neven Maguire, his production team, and RTÉ One for producing and airing the series. It's a great example of how public broadcasting can be interesting and also support small businesses in more challenging times.
See the programme on the RTÉ Player
You can still view the programme on the RTÉ Player here (note look for us in Episode 3 – the Limerick Greenway)
Interested in visiting the Attyflin Estate? 
Attyflin is not generally open to visitors, however, we do have open days during the year with tours of the Estate, our orchards, the walled garden and our specialist production facilities. If you are interested in visiting, please send your name, email address and we'll keep you informed. It would also be great to know why you would like to visit us too!  You can email us at info@attyflinestate.com