Our Production

– Simple techniques. Modern facilities. Quality Produce.

At the Attyflin Estate we embrace our centuries-old food tradition. We combine this with the most modern production facilities to bring you premium produce.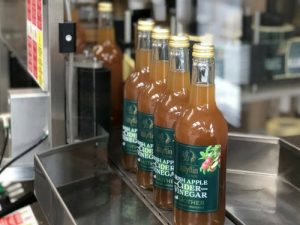 We've spent many years visiting some of the best fruit growing regions in Europe.
Throughout these travels weve been learning how the leading apple growers are carefully turning their fruit into top quality beverages.
Weve brought this expertise to Attyflin so that we can employ simple techniques with the aid of modern and inventive equipment to create quality fruit drinks.
This means we dont need to add colours, artificial flavours, sugars or other unnecessary ingredients. We simply press, bottle and package (all recyclable) on-site.
Get in touch with us to learn more.