Our Walled Garden

 – over 250 years nurturing and harvesting fruit and vegetables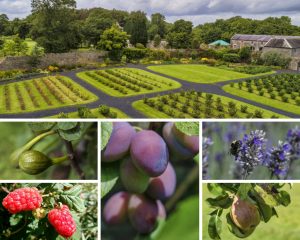 The Attyflin Estate walled garden has had a long life growing a wide range of fruit and vegetables since it was established by the Westropp family over 250 years ago.
Built to enable the growth of quality food for those living on the Estate, it has served a great purpose since the very first crop was harvested.
Today, it is home to an abundance of delicious fruits including the Blackcurrants that are used in our beverage range, as well as pears, cherries, plums, figs, tayberries, loganberries, and grapes.
There are over 20 different varieties now thriving in our walled garden thanks to clever planting and irrigation techniques by our inventive and skillful horticultural team.