Our Orchards

 – where each apple is lovingly grown

The humble apple is at the core of our delicious and elegant range of beverages and raw apple cider vinegar. Each apple is lovingly grown and handpicked from our 10 acre orchards, currently home to 10 varieties of apples.
Varieties among our orchards include: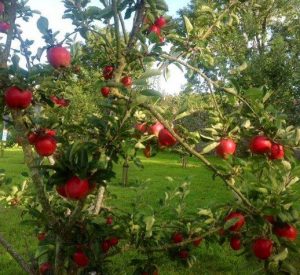 Katy –  an early season apple, bright red in colour with hints of green and yellow. These apples have a refreshing acidity across a balanced strength of flavour. Katy also make a very tasty juice and lend themselves well to the creation of our Raw Apple Cider Vinegar.
Elstar – A golden yellow and deep red apple with an intense flavour profile. Its natural sweetness is offset by a complementary level of acidity to make this a fine tasting apple. Its honey notes make this a great apple for both eating and for juicing.
Rosette – A rather unique apple with a deep red colour and a red flesh. This red colour is then imparted into juice when pressed. Its taste is often described to contain raspberry and strawberry notes. Weve created a delicious award winning juice using Rosette apples or it can be enjoyed as a delicious snack straight from the tree in mid-August harvest.
Dabinette – A late season cider apple which we use to create our Raw Apple Cider Vinegar. With a high sugar content and aromatic flavours this apple variety helps to impart all that is needed to make our delicious apple cider vinegar, all on its own.